The big blog archive ...
I've been writing my blog "Look who's dropped by the studio ..." each and every week posting up my favourite videos from the drumming world! I am pleased you've decided to have a read of some of the older blogs as there might just be something you may have missed, and there's some very funny videos in there as well, so, read on and enjoy my friends ...
---
Week 30 - 30/08/2010
I hope everyone has a had a fantastic Bank Holiday weekend....the last one until next year!
I was watching some live clips of the Reading and Leeds Festival over the weekend and managed to catch Dizzee Rascal, The Libertines and The Arcade Fire. I love all three of these and they are all very different! It was good to see Pete Doherty and Carl Barat back together as The Libertines and loved watching their set....only wish I would have been there rather than watching on the BBC. This got me looking for YouTube clips of Gary Powell (The Libertines drummer). This is one I found so I thought I'd share it with you....I thought there would have been more clips of him but this was one of only a few.
Gary Powell Drum Clinic
A mate of mine Brett posted this video he had made of a drumming potato man (I think thats the only way I can describe it really) covering a Keith Moon classic 'Won't Get Fooled Again'. Anyway I thought I would share it with you all.
Brett Calladines Keith Moon Master Piece
On another note. Make sure you tune into Sky1 Must Be The Music this Saturday to vote for Derby's very own The Trinity Band featuring Rukus who performed alongside Matt Henshaw at Lovebox Festival which I played percussion at! To check them out click this link and click to see The Trinity Band
Anyway seeing The Libertines made me get the albums back out. Up The Bracket is an amazing album. Raw Energy!
Thanks for checking out this weeks drum blog.
Chris
---
Week 29 - 23/08/2010
The weeks keep flying by and this time next week we will have ourselves another bank holiday and be almost into September....and then it will be Christmas!
To continue the theme of 'more than one drummer on a stage at a time' (last week we had a drum trio) this week we will be looking at Chester Thompson and Phil Collins playing a drum duet! Check out this very rhythmic and melodic drum duet!
Chester Thompson and Phil Collins Drum Duet

I filmed this next video a couple of weeks ago when I shot the video "I'm Not Like You" as part of the Crissy Gee project. This is a Sutten 'SC' Catchy song called Rock Shows featuring Matt Henshaw. It was the first time I had met Sutten 'SC' Catchy and we got this together first take!
Sutten 'SC' Catchy featuring Matt Henshaw and Chris Goring with hot rods!

I'll be back with more of my favourite drumming videos next week. I hope every in the UK has a great bank holiday!
I am currently loving Prodigy and the new Budweiser 66.
Cheers,
Chris
---
Week 28 - 16/08/2010
I've had a great week and I am looking forward to another busy one! Got back from London in the early hours of this morning after performing with Matt Henshaw at the Small Faces Convention in London. The set went very well and included songs by Humble Pie, PP Arnold and of course The Small Faces. I felt we were a very tight unit and got some great feedback, which was good to hear. Big thanks have got to go out to John Hellier who makes sure everyone has an amazing night!
This week I am going to introduce you to Vinnie Colaiuta whos playing alongside Steve Gadd and Dave Weckl and some legendary hair styles!! No wonder this has had almost 2 million views on YouTube!!
Dave Weckl, Vinnie Colaiuta, Steve Gadd
Check out this Arctic Monkeys video of 'The View From the Afternoon' which revolves entirely around the drummer. Great band, great video, great drummer (however, the drummer in the video is not Matt Helders)
See you next week for more drums!
Chris
---
Week 27 - 09/08/2010
This week has been a busy one! As part of the Crissy Gee project I filmed the video for "I'm Not Like You" with Reggiimental, Matt Henshaw and Sutten 'SC' Catchy. We used 10 cameras so it should create some great angles and lots of different shots! I have also been rehearsing for the Small Faces Convention at the Relentlass Garage in London on Sunday (15th August), where I will be performing alongside Matt Henshaw. For the gig I will be playing a combination of percussion including a djembe, bongos, cowbell, tambourine and snare, so it makes for some interesting Small Faces songs!!!
This week I have therefore chose to feature Kenney Jones who was a founder member of the Small Faces who replaced Keith Moon as part of The Who when he passed away in 1978.
Kenney Jones solo...
Whilst rehearsing I got myself behind the kit for an acoustic rendition of Black Coffee by Humble Pie. Here's Black Coffee by Humble Pie performed by me and Matt Henshaw our first get together since the Censored days. Sorry you can only see me on the video!
Me and Matt playing around with Black Coffee by Humble Pie...
This week I am going to big up my Facebook page! Please check it out by searching for 'CGdrums Tuition in Ilkeston' on Facebook and remember to become a fan!
Thanks for visiting my drum blog, full of my favourite videos from the week!
Chris
---
Week 26 - 02/08/2010
I would like to start by thanking everyone for visiting my drumming blog aswel as telling everyone that I have a Twitter page (@cgdrums) for those who didn't know, so please follow me if you want to be regularly updated about my blog posts and anything else 'mostly' drum related! www.twitter.com/CGdrums
This week I have been working on a project called 'Crissy Gee' Which features me playing a variety of percussion instruments along with laying down the drum kit foundation on which the songs grew from. The project is almost complete but lacking artwork at the moment. The project features a handful of musicians combining many different styles. More to come on this soon.
I suppose its time to introduce another Dave to my drum blog, after last weeks Dave fest! This week the featured Dave is....Dave Weckl. The first video is of Dave playing a Solo and the second is of Dave playing to a backing track!
Check out Lee Evans doing my funny drum related video of the week!!!! Very funny man!
Thank you for watching. See you next week!
Chris Goring
ps. remember to check out my Twitter @cgdrums www.twitter.com/CGdrums
---
Week 25 - 26/07/2010
So, I went to see Toy Story 3 and my conclusion is simple....absolutely mega...five out of five!!!!!! Theres so many funny bits in it and a great storyline, but you wouldn't expect anything other from Pixar!
Anyway I'm here to show you who dropped by my studio this week! Dave Lombardo from Slayer is my drum video of the week! Check out this solo and see what you think!
Heres another video of Dave....

Heres a very short clip of another Dave...this time its Dave Grohl playing a kids drum set. Very good as you would expect!
Thanks for checking my blog out. If you are new to the blog make sure you check out weeks 1-20 as well.
Chris Goring
Drum Tuition and Drummers Blog
---
Week 24 - 19/07/2010
Hows it going everybody?
I Played percussion (which consisted of; bongos, tambourine, cowbell, shakers and a snare) at LoveBox Festival in London with Matt Henshaw at the weekend. I had an amazing time hanging around with The Maccabees, Ellie Goulding and Dizzee Rascal. Heres a snap of me on stage....see if you can spot me on the right of this picture!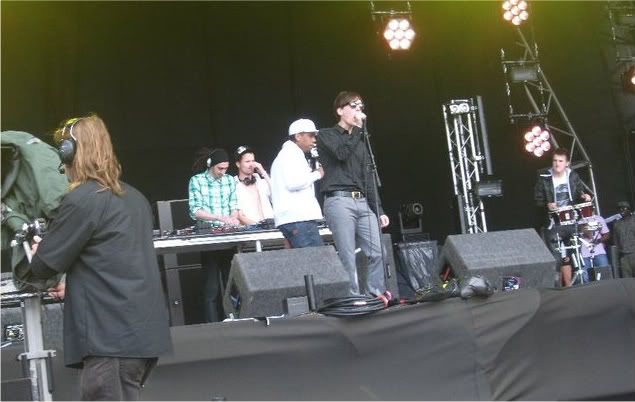 This weeks blog is going to focus on the playing of Tony Royster Jnr. He started his drumming career at the age of 3 and now plays as part of Jay-Zs band! Watch these two videos which show a small part of his evolution.
Tony Royster Jnr playing a solo aged 12....

Tony Royster Jnr performing live with Jay-Z...

Finally, it is a big week for anybody who grew up as a youngster in the 90's as Toy Story 3 is released this week. Here is a trailer for the film! I can't wait to see it!!!!!
Adios and see you next time
Chris
---
Week 23 - 12/07/2010
Travis is pretty fast isn't he! I love the camera angle of the top solo from last weeks blog!
I'd like to start this weeks blog by saying congratulations to Matt Henshaw (my web designer, ex band mate and all round good guy ->haha) and Reggiimental...(also all round top fella) on winning the NME competition to open the LoveBox Festival in Victoria Park, London on Friday 16th July alongside Dizzee Rascal, Mystery Jets, The Maccabees, Mark Ronson, Roxy Music and Ellie Goulding to name a few. I have been invited along to join them on stage to play percussion which is great of them. So this is a big thank you to them for the opportunity.
Therefore this weeks blog is going to focus on percussion and the playing of....
This is not just a solo but one amazing composition
This next video was sent to me by Rob Brighton of The Jet Boys, which ties in well with this weeks blog theme. This is insane! I have also been told to search on youtube for Adam Walsh playing on a tree and apparently its incredible!!!!!
Links of interest related to this weeks blog!
www.MattHenshaw.com - Matt Henshaw Official Website
www.myspace.com/reggiimental - The Official MySpace of Reggiimental
See you in a week back for more!
Chris - CGdrums
---
Week 22 - 05/07/2010
Welcome to this weeks drum blog!
My inspiration for this weeks blog came from seeing a photo of Travis Barkers' drum kit taken by two of my friends who had recently been to L.A (U.S.A).
Heres the snap!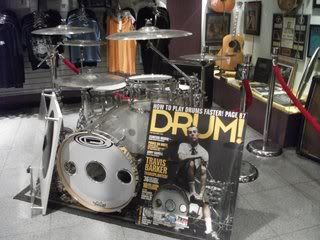 Never has a drummer caused so much of a debate. With a lot of people he is like marmite. You either love him or hate him. Below is a drum solo so you can make up your own mind!
Travis Barker drum solo
I like how Travis Barkers' showmanship has been used as the opening sequence for the American Superbowl. The first video below shows his initial recording of the track in a green room followed by the official video showing how he has been incorporated into the sequence! Look at how he creates a great visual effect whilst drumming!
To finish off here is a random kit smash up...Keith Moonish maybe?
Drum Smash up video
What did you think to Travis then?
All the best,
CG
---
Week 21 - 28/06/2010
England's World Cup is Over! England's Glastonbury Festival is Over; and what a line up it was! The headliners were Gorillaz, Muse and Stevie Wonder which to me is pure quality! A couple of weeks a go I posted up a clip of Muse, so this week I will post a couple of clips of Stevie Wonder behind the kit - did you know he could play the drums?
Stevie Wonder jumps up behind the drum kit during a gig
A rare Stevie Wonder solo
You've watched Kieran Gaffney off Britain's Got Talent perform 'Wipeout', now watch the YouTube legend Steve Moore play it! Who would you prefer to see? You might remember Steve Moore from my blog a few weeks a go as the the drummer who threw his arms everywhere and did loads of stick tricks whilst playing live from Texas!!!
It was the first time this week I noticed that on YouTube you can click the football icon and you get a drone of Vuvuzela's just to annoy you, unlike watching the World Cup where you have no choice but hear the annoying drone!
Acoustic kits are currently winning in the what type of kit do your prefer poll. See Week 20's blog to cast your vote on whether electronic kits or acoustic kits are your favourite to play.
Have a great week and thanks for checking out my drum blog!
Chris
CGdrums on Facebook
---